---
Cosmetic Dentistry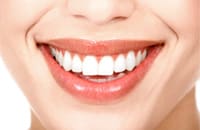 Your smile is one of the first things people notice about you so let us help make yours perfect. Dr. Kavetsis and her team offer a complete range of cosmetic dental procedures from full-mouth porcelain veneers to crowns to whitening.
Cosmetic dentistry need not always be radical and expensive. Affinity Dental offers procedures to fit any budget or need. Dr. Kavetsis takes photos of all new patients to act as a "baseline" and, together with the patient, will create customized smile improvement plans.
---
Pediatric Dentist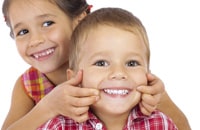 Affinity Dental is a family-friendly practice that focuses on prevention and education for children and their parents. We encourage parents to bring their children to see us beginning at one year of age to lay the foundation for lifelong oral health. We love kids and warmly welcome them in our practice!
---
Orthodontics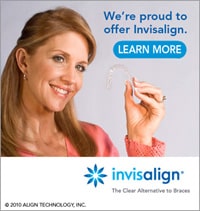 Orthodontics can be used alone or in conjunction with other cosmetic procedures to better align teeth. Teeth in nice alignment are easier to clean and can help prevent future periodontal problems. Dr. Kavetsis believes that using orthodontics to move teeth into a more symmetrical and "beautiful" position can be a permanent and economical plan for patients. Affinity Dental offers clear aligners from Invisalign and simple retainers to treat varying degrees of misalignment.
---
X Dental Implants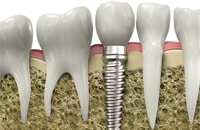 Affinity Dental is proud to offer the newest standard in tooth replacement. Dental implants are a very effective way to replace missing teeth. The implant procedure
involves placing a small titanium post into the bone to act as the new "root" for the implant. Once healed, a porcelain crown can be placed on the post. The implant looks and feels like a natural tooth and does not require the adjacent teeth to be treated.
---
Periodontics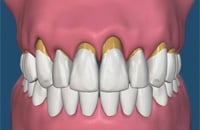 Periodontal disease is the "silent, painless" bone and gum loss around the teeth and is the number one contributor to tooth loss. Dr. Kavetsis and her team believe that regular professional cleanings and a healthy lifestyle can help prevent and drastically reduce the incidence of periodontal disease. Affinity
Dental treats all stages of periodontal disease and encourages you to come in no matter how much time has passed since your last cleaning. Our focus is on achieving the best oral health possible and educating our patients on proper tooth maintenance at home.
---
Fillings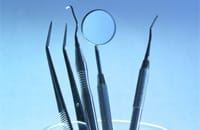 Affinity Dental is a mercury-free office and all fillings placed are resin-based tooth colored restorations. Resin fillings bind directly to the tooth enamel and help to maintain the tooth structure. This material can also be used to fill in chipped teeth.
---
Porcelain Crowns, Bridges, Onlays, Inlays
Although teeth are composed of many layers of enamel and tissue and are inherently strong, old fillings or expansive decay can weaken teeth. Porcelain restorations are used to restore defects and to strengthen weakened teeth. Dr. Kavetsis follows the most conservative guidelines and takes every measure to save healthy tooth structure.
---
Teeth Whitening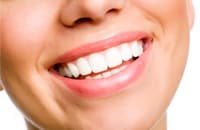 Affinity Dental offers both in-office and at home teeth whitening options. Dr. Kavetsis customizes each plan to help patients achieve their whitest and brightest smile.
---
TMJ Treatment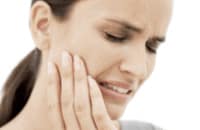 Temporomandibular joint pain, or TMJ pain, is pain in the jaws and can range from minor to severe. TMJ pain can also cause headaches that may disrupt your daily activities. Grinding teeth, jaw injury or stress can all contribute to inflammation and pain near the temporomandibular joint. Dr. Kavetsis will do a thorough muscular exam and may use biting tests to determine each patient's diagnosis and treatment plan to relieve TMJ pain.
---
Sleep Apnea Treatment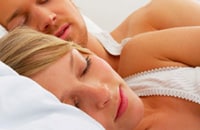 A major type of sleep apnea, called Obstructive Sleep Apnea (OSA), can be successfully treated with custom oral appliances that are worn at night. When combined with a sleep study and a physician's diagnosis, OSA will be treated with an appliance that fits over the teeth and helps hold the lower jaw forward. This keeps the airway open and reduces snoring. Dr. Kavetsis will then monitor your treatment with follow up visits and make adjustments as needed. Many medical insurance plans cover all or some of the costs associated with the treatment of OSA.
---
Dental Emergency Care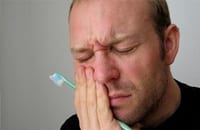 Any patient experiencing pain or a sudden change in their oral health will be seen as quickly as possible—many times the same day. In an emergency situation, Affinity Dental focuses on pain control with treatment decisions following when the patient is stable. We understand these situations can be very stressful and will help in any way possible. Please call us at 773-904-7079 to request an emergency appointment.
---
Oral Cancer Screening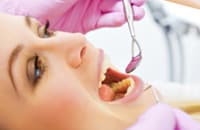 Along with the American Cancer Society, Affinity Dental believes that regular dental exams are a great preventative measure for oral cancer. All patients will have a thorough mouth, head and neck exam at the initial assessment and all check-up appointments. Dr. Kavetsis will discuss risk factors and offer informational resources to patients such as smoking cessation.
---
Dental Guards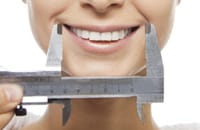 Bruxism, generally referred to as tooth-grinding, is a very common habit and can lead to excessive tooth wear, jaw pain and even broken teeth. Although certain factors, such as stress, can trigger or worsen the grinding, it is unlikely that a patient with a history of grinding will ever completely stop. Grinding is a complicated neuromuscular habit that cannot be cured but the teeth can be easily protected. Dr. Kavetsis will custom fabricate a nightguard that will help protect your teeth from wearing away. After an initial adjustment period, wearing the guard becomes a simple lifestyle change that will prevent serious problems in the future. Guards are also important for patients who have had cosmetic procedures as they act as protection against chipping or fractures. Children and adults playing sports should also wear sportguards for protection. Dr. Kavetsis will customize guards for growing children and regularly monitor their fit. As children grow and adult teeth come in, the guards will be modified or remade to offer continuous protection.
---
Root Canals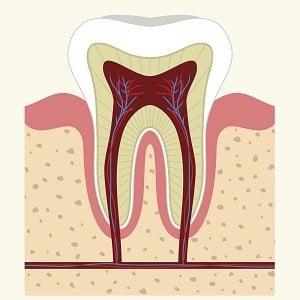 Root canal treatment, also known as endodontic treatment, is a dental procedure in which the diseased or damaged pulp (core) of a tooth is removed and the inside areas (the pulp chamber and root canals) are filled and sealed. Inflamed or infected pulp (pulpitis) most often causes a toothache. To relieve the pain and prevent further complications, the tooth may be extracted (surgically removed) or saved by root canal treatment. Root canal treatment has become a common dental procedure; more than 14 million are performed every year, with a 95% success rate, according to the American Association of Endodontists.
---
Same Day Crowns (CEREC)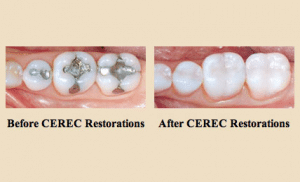 CEREC technology is a state-of-the-art system for creating the most-advanced permanent crowns today. With CEREC same-day crowns, there is no need to construct a temporary crown, take impression for a permanent crown that will be developed later, and go through days of "protective" eating and being extra careful of the temporary crown. Affinity Dental will craft your restorative crown in our office during the same treatment session that your tooth is prepared for.
CEREC crowns use computer technology to image the tooth that will be crowned, as well as the surrounding teeth. This computer-aided design allows us to achieve a better fit and match than was previously possible, and to check this work in the context of your teeth, since you are present while the permanent restoration is made. In addition, because the crown is made from a single block of ceramic or resin material, it is considerably stronger than many other types of crowns. It is simply the best crown available in dentistry today.
---
Sedation Dentistry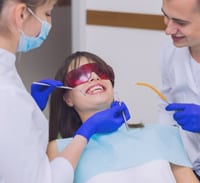 Sedation dentistry is a specialized dental practice that provides patients with a comfortable and relaxed experience during dental procedures. It involves the use of medication to help alleviate anxiety and fear, allowing patients to undergo complex dental treatments without discomfort. Sedation dentistry is an ideal option for those who have dental phobia or anxiety, have trouble sitting still for extended periods, or require extensive dental work. With this innovative practice, patients can receive the dental care they need without experiencing any pain or discomfort.
---
Dentures and Partial Dentures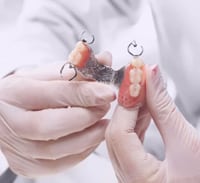 Affinity Dental offers comprehensive denture and partial denture services to help patients improve their oral health and restore their smiles. Our experienced dental professionals use the latest technology and techniques to custom-create high-quality dentures and partial dentures that fit comfortably and provide optimal functionality. Our goal is to help our patients achieve a natural-looking, healthy smile that they can be proud of. Dentures and partial dentures can improve the appearance of the face, prevent sagging of facial muscles, and make it easier to eat and speak. At Affinity Dental, we believe that everyone deserves a healthy smile, and we work tirelessly to ensure that our patients receive the best possible care.
---
Geriactric Dentistry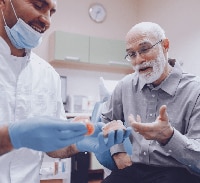 Geriatric dentistry, also known as gerodontics, is a specialized field of dental care that focuses on the oral health of older adults. At Affinity Dental, we understand the unique dental challenges that seniors face, and we offer a comprehensive range of geriatric dentistry services to help our patients maintain healthy teeth and gums. We take a multidisciplinary approach to geriatric dentistry. From routine cleanings to specialized treatments, we offer a range of solutions designed to meet the unique needs of our senior patients.
---
Dental Checkup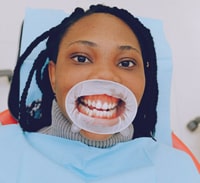 Regular dental checkups are crucial for maintaining excellent oral health and preventing potential dental issues. We offer comprehensive dental checkup services at Affinity Dental, designed to detect any problems early on before they develop into more serious issues. Our experienced dental professionals use the latest technology to detect any potential issues early on and provide personalized treatment plans to help you achieve optimal oral health. We also provide professional cleanings to remove any buildup of plaque and tartar, which can lead to tooth decay and gum disease.
---
Dental X-rays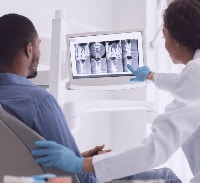 Dental X-rays are an essential diagnostic tool used to detect potential dental issues that may not be visible during a routine checkup. At Affinity Dental, we use state-of-the-art digital X-ray technology to provide high-quality images of your teeth and jawbones. Our experienced dental professionals can detect issues such as cavities, tooth decay, gum disease, and oral cancers with greater precision and accuracy using digital X-rays. With less radiation exposure and faster processing time, digital X-rays are a safer and more efficient alternative to traditional film X-rays. With our dedication to advanced technology and patient-centered care, Affinity Dental is your best choice for expert digital X-ray services.
---
Dental Sealants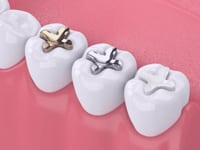 Dental sealants are a preventive dental treatment designed to protect teeth from cavities and decay. They are a thin plastic coating that is applied to the chewing surfaces of molars and premolars, providing a barrier against harmful bacteria and food particles. At Affinity Dental, we use high-quality dental sealants to provide our patients with comprehensive preventive care. Our experienced dental professionals can apply sealants in a quick and painless procedure, providing long-lasting protection for your teeth.
---
Dental Veneers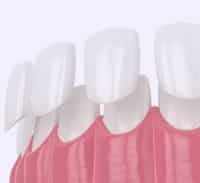 Dental veneers are a popular cosmetic dental treatment that can transform your smile. They are thin, custom-made shells that are placed over the front surface of teeth to improve their appearance. At our practice, we use high-quality porcelain veneers that look and feel like natural teeth, providing a beautiful, seamless result. Our experienced dental professionals can customize your veneers to match your natural tooth color and shape, giving you the smile you've always wanted. With proper care, veneers can last up to 20 years, making them a long-lasting investment in your dental health and confidence.
---
Chicago Dentistry Services | Chicago Cosmetic Dentistry | Chicago Periodontics | Chicago Orthodontics | Chicago Oral Cancer Screening